The Saranac Cheifs are an IBL baseball team.
They are currently based in Saranac.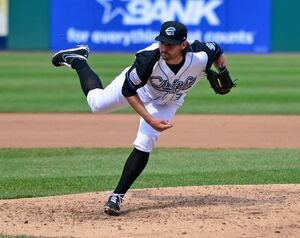 1002-1079 Founded in 1931
Saranac Hammers
Edit
They're Season Got off to a good start then they were a losing team.
1945 New Name,Look,Manager,and Results
Edit
They Selected Barry Thompson to be they're manager for the
Team.
Saranac Chiefs

Some attributes

First
Founded-1931
Second
W-L-1002-1079
Third
Win Per. 567

Other attributes

Fourth
Location-Saranac
Fifth
Pervious names-Saranac Hammers(931-1945)
Ad blocker interference detected!
Wikia is a free-to-use site that makes money from advertising. We have a modified experience for viewers using ad blockers

Wikia is not accessible if you've made further modifications. Remove the custom ad blocker rule(s) and the page will load as expected.